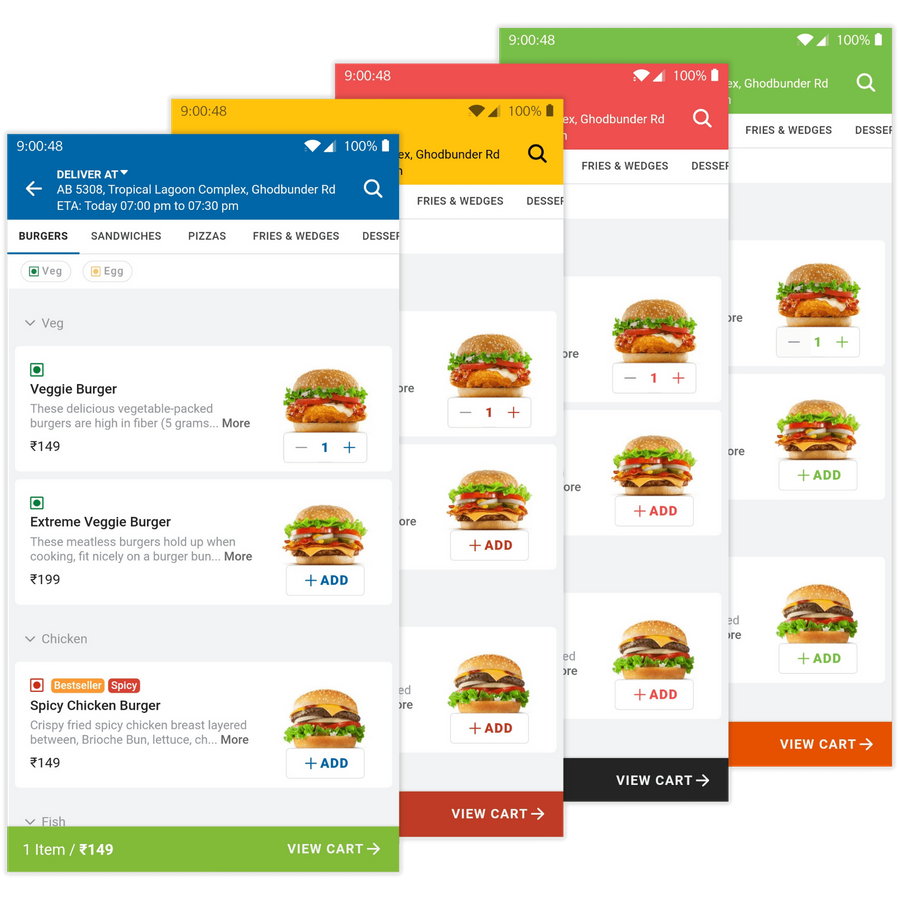 Ordering App & Website
Crafted to perfection for all platforms, Android, iOS and Website
Menu Experience
Beautiful and easy browsing of items
Timing based items
Items are available for ordering based on timings assigned. Useful when your menu changes on daily basis.
Variations and addons
Same addon groups can be assigned to multiple items.
Multi-level categories
Parent & child categories structure supported.
Custom taxes
Create and assign applicable taxes to individual items.
Custom Pages
Homepage, about us... create your own custom pages
Fully customizable
Image slider, banner and +15 widgets lets you design your own extra ordinary pages.
Show past order
Let your customer directly buy previously ordered item.
Store level widgets
You can even assign stores to each widget to show in specific store only.
User Location Selection
Powered by Google
Use current location
With just one tap, the user's current location is auto-selected without entering their location.
Saved addresses
Allow user to select from saved addresses for an easy switch between locations.
Recent searches
Saved recent searches helps user to select from recently searched locations.
Cart Overview
One step checkout process
All service modes available
Delivery, Takeaway & Dine-in modes. Order is placed in store nearest to the user location.
Advance ordering
Customer can select their preferred Delivery, Takeaway or Dine-in slot.
Online and cash payment
Customer can choose a mode of payment, online or cash. Online payment is powered by Razorpay.
Distance based delivery charges
Delivery charges are calculated automatically based on configuration in Autiller Business App.
Offer Coupons
Promote your brand with exclusive discount offers
4 discount type available
Free delivery, Free dish, Flat and Percent discount, with more than 20 conditions to generate coupons, including validity, max usage and first order.
Autosuggest coupons
Promote coupons in offers page and let customer apply code in one click.
Terms and conditions
Auto generated terms and conditions are visible with code. This clears confusion among customers.
Signup / Login
Login using mobile number and OTP
Never miss an OTP
OTP SMS are sent through multiple channels to ensure your customer always receives the OTP Code.
High Priority channel
SMS is sent through highest priority channel so that your customer receives the OTP SMS quickest possible.
Security
OTP code is valid for few minutes. Mobile number is blocked temporarily if the number of attempts exceeds the threshold for security reasons.
Online Payment
Use your own Razorpay account
Card and netbanking
All major credit and debit card supported. Visa, Mastercard, Rupay and more. All major banks are supported in netbanking.
UPI / QR
GPay, PhonePe, PayTM, BHIM and more. Any installed apps with UPI will be auto-suggested.
Wallet and paylater
PhonePe, Freecharge, Ola Money, JioMOney, PayZapp and more wallets supported. Supports PayLater from Simpl and more.
Order Tracking
Realtime tracking of orders
Rider tracking
Customer can track their order in realtime and can directly contact the delivery agent.
Contact store
Customer can call the outlet in case of any queries or cancellation.
Rate app
Your customer can rate their experience in the App store.
Order Feedback
Let your customers know, you are all ears
Why feedback?
Feedbacks are an important source of valuable inputs which helps improve your products and services.
Items & Delivery Rating
Customer can rate food and delivery experience and select tags they specifically liked or disliked.
Comments
Additional comments can be entered by the customer.
Loyalty program
Reward your loyal customers
Tier based rewards program
Highly customizable loyalty program, create as many levels required.
Earn points on every purchase
Your customer earns points on every purchase, that can be use to upgrade to higher level.
Unlock rewards on every level
Customer can redeem rewards when upgrade to higher level.
Customizable theme
Theme your entire brand app with just two brand colours